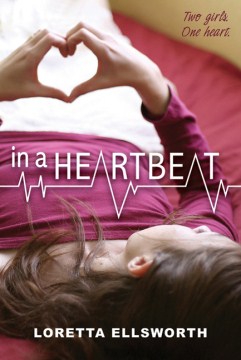 And the winner BY ONE VOTE is:
In a Heartbeat by Loretta Ellsworth!
Told in their separate voices, Eagan, who has died in a figure-skating accident, becomes a heart donor for Amelia, who then begins taking on some aspects of Eagan's personality.
The runner-up was Marissa Meyer's Cinder:
As plague ravages the overcrowded Earth, observed by a ruthless lunar people, Cinder, a gifted mechanic and cyborg, becomes involved with handsome Prince Kai and must uncover secrets about her past in order to protect the world in this futuristic take on the Cinderella story.